Feilong digital in out thermometer
In out thermometer
Digital in out thermometer
Portable temperature and humidity meter

Specifications:
In out thermometer
1.Min MOQ,only one is ok
2.more 15 years factory
3.OEM/ODM accept,CE passed
4.New design and fast delivery


Product Description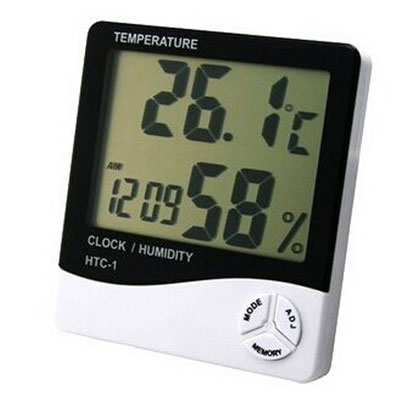 This temperature and humidity meter features large character LCD display. Displays time, humidity and temperature in Celsius or Fahrenheit. Includes stand and can be used as desk clock or room thermometer. Displays temperature between -50C to +70C or -58F to 158F, humidity level between 10% to 99%.

Features:
Display temperature, humidity and time simultaneously
Memory of MAX & MIN measuring value
12 hour / 24 hour displaying system selectable
C/F unit selectable
Clock & Calendar function (month and date)
Desk-top placing or Wall Hanging


Specification:
Temperature range: -10 ~ +50C (14 ~ +122C)
Humidity range: 10% ~ 99% RH
Temperature resolution: 0.1C (0.1C)
Humidity resolution: 1% RH
Temperature accuracy: 1C (1.8°C)
Humidity accuracy: ¡à5% RH(40% ~ 80%)
Power Supply: 1.5V AAA size (Not Included)
Device Dimension: 105 x 98 x 24mm
Device Color: White
Device weight: 114g

Package Includes:
Digital HTC-1 LCD Thermometer
User manual
Retail packaging


Shipping
We can ship to virtually any address in the world. Note that some products cannot (due to international laws or patent protections) be shipped to international destinations and we will indicate as such in the product description. Shipping costs depends on the weight of the order, shipping method selected, shipping origin and shipping destination. This will be calculated when you checkout your shopping cart.
If you cant see shipping rate for your location, then please feel free to contact us and we will reply back with correct shipping rate. Most orders we ship via Canada Post unless other service requested by buyer. We make sure each order arrives on time and damage free.

Terms of Sale
We guarantee that products we sell are high quality by offering a 1 year warranty or exchange policy. You have to inform us at our PayPal service email if you intend to return/exchange. State the items that you would like to return and the reason for the return. Shipping cost is non-refundable. Return item must be in its original/unused condition. Returns of damaged or used goods will be rejected - these goods will be discarded. Incomplete packaging will result in a 30% re-stocking fee.

About Us
FTA Electronics Enterprise was founded in 2005. We sell best quality products in order to enrich customers satisfaction. Great price, high quality inventory and best customer service makes us strong and able to compete with any other wholesalers. We work with many different supplier and also import electronics from worldwide. We do our best to insure that every customer is happy since your happiness is our success!

Contact Us
Please contact us first before leaving any NEGATIVE feedback, or raising any disputes to PayPal. We guarantee to solve your problems in a way you'll be satisfied! If you have any question, please feel free to contact us by sending us an email . We normally reply to emails within 48 hours.