Feilong new type pid intelligent temperature controller
Pid intelligent temperature controller
Temperature controller
Intelligent temperature controller


Specifications:
Pid intelligent temperature controller
1.Min MOQ,only one is ok
2.More 15 years factory
3.OEM/ODM accept,CE passed
4.New design and fast delivery

Product Description
Feilong new type pid intelligent temperature controller (OEM)
Power supply:

AC/DC85-260V

Panel Dimension:

45*22mm

Temperature precision:

0.2%FS

Contact capacity:

AC250V/3A

SSR-level

8V(Open-circuit voltage)

30mA(Short-circuit current)

Environment

0-50C≤85%RH

PID Digital Pressure Controller (FL8720) -----sensor (OEM)

| | |
| --- | --- |
| diameter | 3mm |
| length | 100mm |
| Temperature range | 0-300C |
| wire | 2M |

Feilong new type pid intelligent temperature controller
1. Product Highlights
Thermocouple: T, R, J, B, S, K, E, Wre3-Wre25.
Thermo Resistor: Pt100, Cu50.
1 Relay output, 1 SSR controlled output.
Time proportional PID controlled output to either Relay or SSR
Three built-in algorithms that fit most control objects and various applications.
Temperature can be set to display in either Fahrenheit or Celsius degrees.
2. Specifications
Supply voltage: 12V AC or DC
Power consumption: < 2 Watts.
Sampling speed: 4/sec.
SSR activated voltage: open circuit: 10V; short circuit: 40mA.
Accuracy: 0.2% of full scale.
LED Display: Red, 0.28 inch
Out of range indication: "EEEE".
Ambient temperature requirements: 0 to 50 C (32 to 122 F)
Humidity requirement: < 85% RH.
Relay Contact: 220VAC, 3A.
Controller dimensions: 48 x 24 x 75 (mm).
Opening for installation: 44 x 20 (mm)
3. Panel Illustration and Description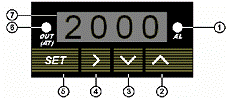 Figure 2
1 -- AL, Relay J1 Indicator.
2 -- Select next parameter / value increment.
3 -- Selection previous parameter / value decrement.
4 -- Digit select / Auto tuning.
5 -- Setting / Confirm.
6 -- Output, controlled output indicator. (AT) Blinking during auto-tuning process.
7 – Temperature reading, degrees F or degrees C (as chosen)
Connection Terminals (back view).
Note that the polarity of power at terminals 1 and 2 does not matter.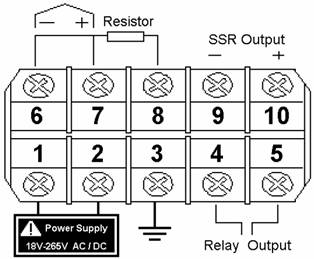 Figure 7
7. Device Application Example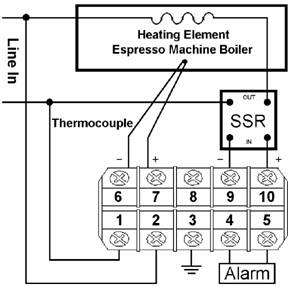 Figure 8
User wants to control internal temperature (T) of boiler by measuring the surface temperature of the
boiler. A surface mounted, Type K thermocouple is chosen. Boiler surface is to be maintained at 225
deg F. System power supply is AC120V. Installation opening is 44 x 20(mm). A solid state relay
(SSR) with a rating of 25A will be used to control the heating element.
a) Choose FL8710 with input from a Type T thermocouple.
b) See Figure 8 for connection diagram.
c) Parameter settings:
(Inty) = t
(Outy) = 2
(CAty) = 0
(PSb) = 0
(Rd) = 1
(CorF) = 1
(filt) = 0
(auto-tuning will be used to set PID parameters)
(SV) = 225 deg F
(AH1) = 325 deg F
(AL1) = 325 deg F
Power up the controller and press (>) to activate auto-tuning. When "AT" stops blinking, new PID
parameters are generated for the system. The controller is in normal operation mode.